Public Awareness
Ensuring that the public understands scope of the epidemic and as well as the personal toll it takes on families are crucial areas of focus for us. With the number of opioid-related deaths reaching staggering proportions, the topic is getting significant attention from media outlets, the Colorado legislature and a variety of civic and nonprofit groups.
Because a number of our board members and volunteers have lost a loved one to opioids and opioid interactions, we are available to speak to reporters, to provide legislative testimony and to provide a program called "These Numbers Have Names" at community events.
We also work with the Colorado Consortium for Prescription Drug Abuse Prevention to offer an event called "Beyond the Numbers: Echoes of the Opioid Epidemic." This series of short videos tells the stories of 10 people touched by the opioid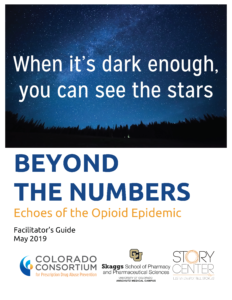 epidemic and how their lives have been filled with love, loss, and hope. Each story was created by someone in recovery or who knew and loved someone affected by opioid use disorder to help viewers understand the personal impact of the crisis.